Announcing the patient pathways site and partner toolkit from Opening Pathways
As of today, if you were to click on OpeningPathways.org, you'd notice a slightly different look than before. This site that you're reading this blog post on was originally used to announce the Opening Pathways project, and then mostly to host this blog to document and share our work and our team's evolving thought processes over the last two years. But now, when landing on OpeningPathways.org, people will not only be encouraged to read the blog content from the Opening Pathways project, but also to visit one or both of the new sites that are the output of Opening Pathways: the patient pathways site, and the partner toolkit.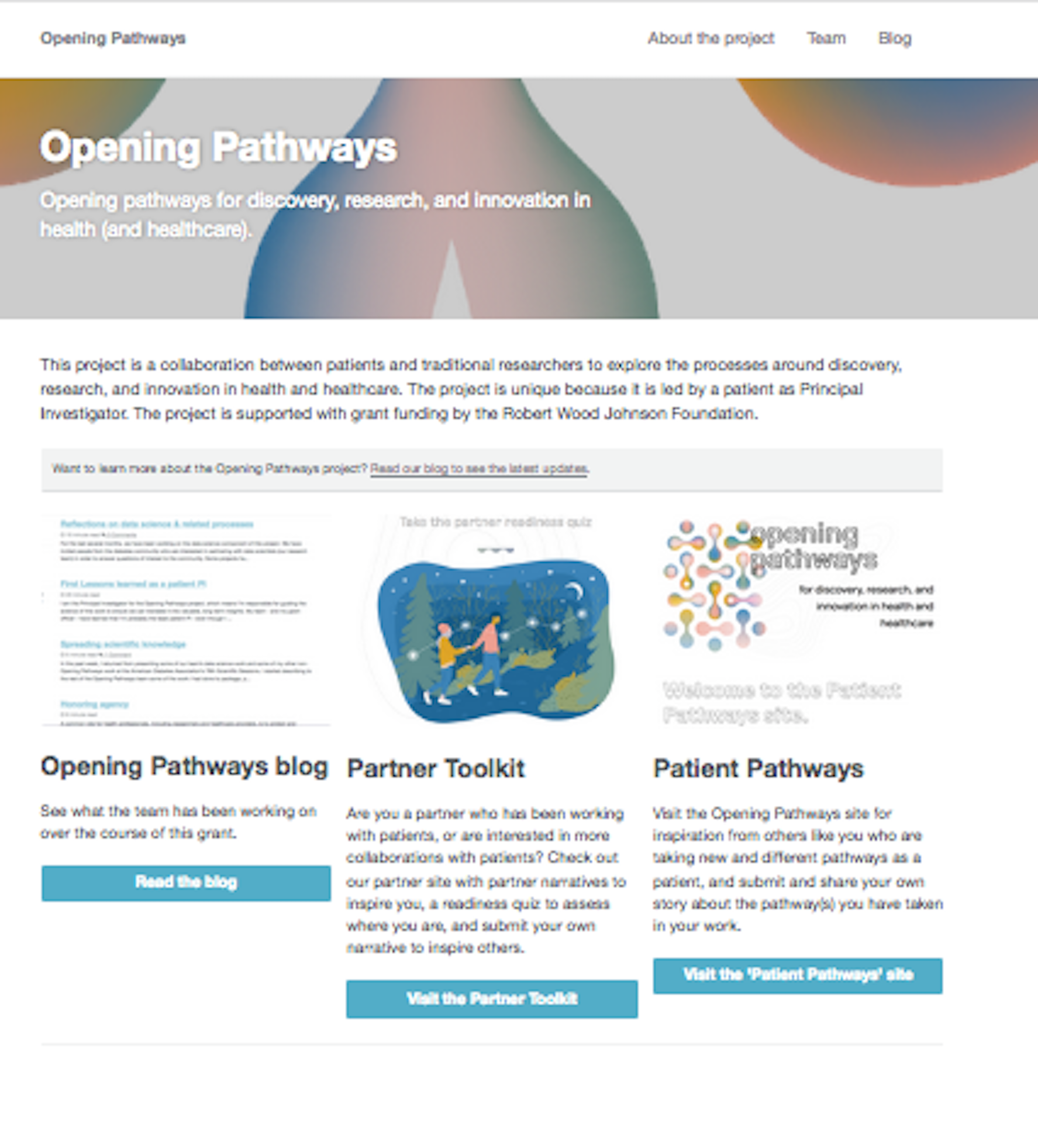 Patient Pathways
The patient pathway site https://patient.openingpathways.org/ is one that we had planned to do from the start of this project. We were hoping to help inspire and shine a light on the many pathways that patients are taking in this work. However, one thing we heard loud and clear at the Convening, and subsequently when talking with other patient innovators and researchers, was the value in hearing that 'you are not alone,' even when you happen to be breaking ground on a new pathway.
Our ideas for this site have evolved significantly over the past few years. Initially, I was thinking we would have more specific tools and resources for patients. But again, what I learned would be the most valuable thing is highlighting the similarities across people's pathways, even when they might look different, to help patients find others like them, and share lessons among pathways.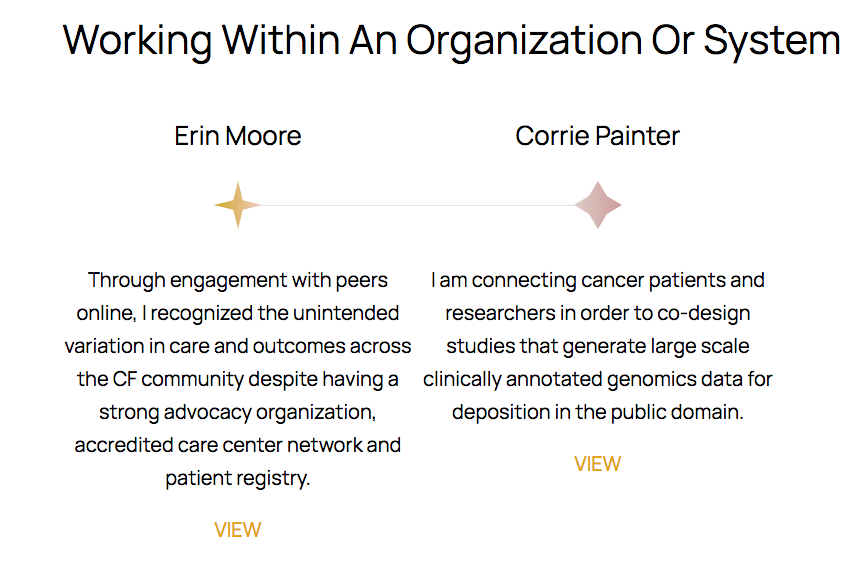 Therefore, the patient site is organized around groups of pathways, with individual stories shared under each pathway. For example, pathways that have stories so far include creating your own organization; working within an organization or institution; recognizing that some people take multiple pathways within and around organizations when necessary; and, others still work outside the bounds of traditional organizations.
I encourage you to read the stories within the pathways, and if you're a patient, please consider sharing your story for the site! Don't worry if there's not a pathway that you feel matches your story - we'll add more pathways to match the stories as they come in!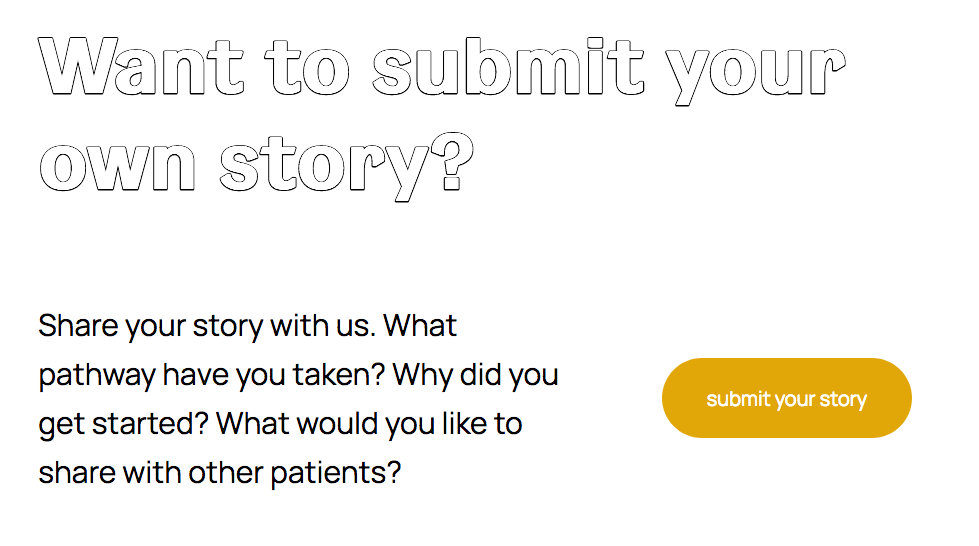 Each story has similar elements, so you'll be prompted to share what your pathway has been; how and why you got started; what you have done; what lessons you've learned that you want to share with others; and your vision or what comes next. There's also space to include links to videos or other resources to share your work.
(Special thank you to Emily Kramer-Golinkoff, Corrie Painter, Erin Moore, Liz Salmi, among others, for sharing their stories early on and for providing feedback throughout the Opening Pathways work!)
Partner toolkit
As I described in this post about our decision to request a no-cost grant extension, we wanted the extra time to work on an additional site/project that we identified as a core need. Namely, we wanted to create an accompanying toolkit https://partner.openingpathways.org/ for 'partners' who support patients in their work.
Why? Well, as we've documented over the course of the grant, partners of patients (such as my co-PIs and team!) can be incredibly supportive and helpful in accomplishing the goals that we patients set out to achieve. However, we also have learned that it takes time to establish productive partnerships and relationships, and that despite the best of intentions, sometimes the prior experiences, pre-existing biases, or normative power of the traditional roles of partners can overtake or detrimentally impact a project or collaboration. Outside of this grant, I have had my own experiences with successful partnerships, as well as some partnerships that taught me a lot about what to look for in future partner relationships.
Because this has been an ongoing part of our meta-conversations, a lightbulb went off for our team as we discussed how to 'help' partners help patients. We started discussing this toolkit with plans to include stories from partners already doing this work; an invitation for others to share their own narratives about their experiences partnering with patients and what they learned; resources for partners who are just getting started in working with patients; and also a soft on- or off- ramp for partners who may or may not yet be ready to commit their energy or resources to an equitable partnership.
One of the key tools we developed is something that was first idealized as a 'humility audit,' which Eric, Erik, and John all thoughtfully did on their own by documenting their narratives (read them here) and experiences with this work. The more we discussed it, the more we realized that an audit or 'quiz' would be useful to help guide partners in considering their current workload, their goals for partnership, and whether they're ready. Thus, the 'readiness quiz' was born.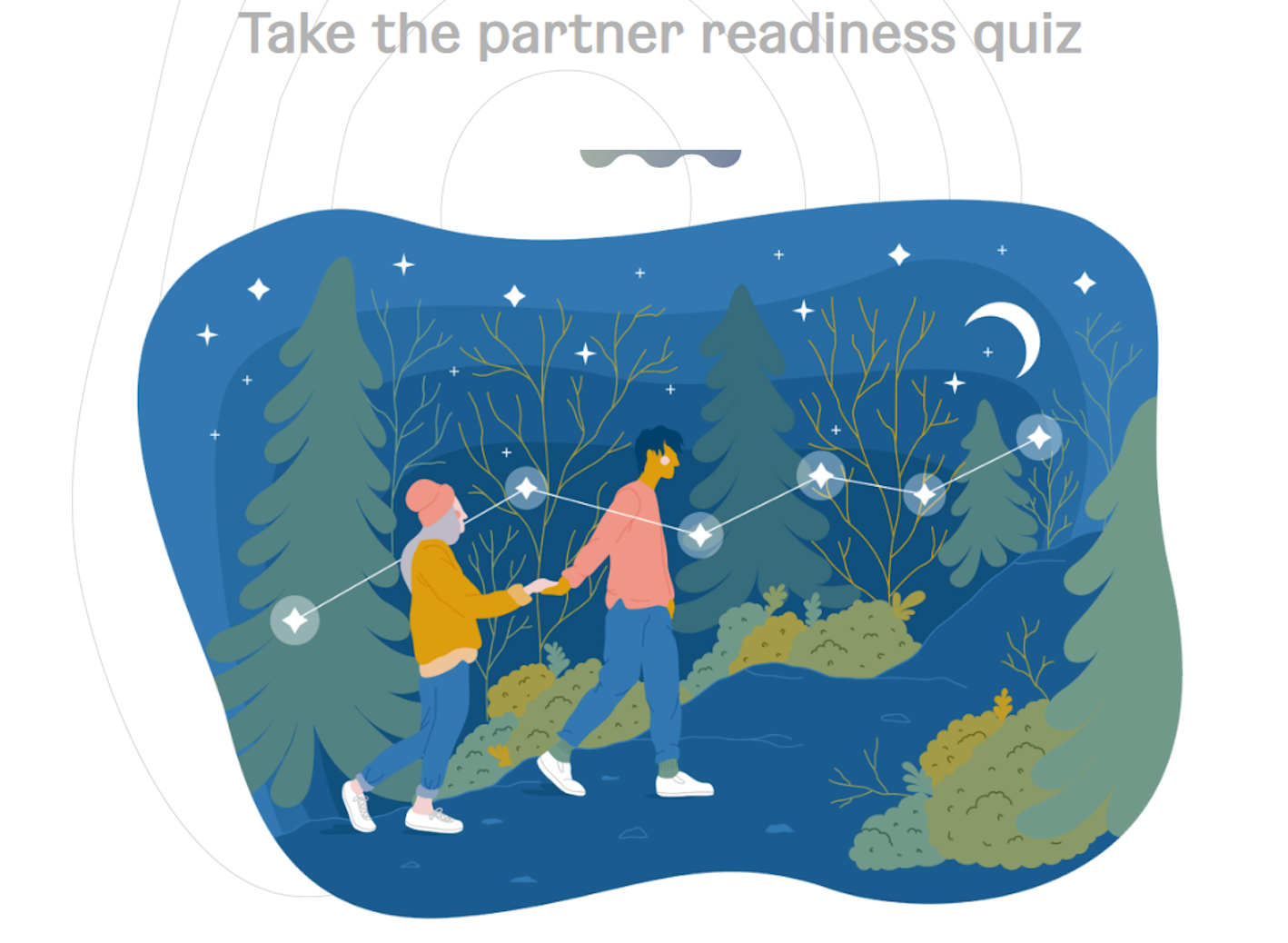 We know people entering the partner site may be new to the idea of exploring partnerships with patients; they may already be working with a specific patient or patient group and want support in their work; or they may be developing a new relationship with a new patient partner. This quiz supports all of those groups, and is designed so that you can save the URL to your results and/or print/save them to be used to discuss with others in the future.
If you are a partner that already has a specific patient partner in mind, the quiz will enable you to think through your work in context of your proposed partnership. It will help you consider not only your expertise but also what your patient partner's priorities, strengths, skills, abilities, and needs are. How does your work and abilities align with their work and skills? Are you ready to work collaboratively as true, meaningful partners? You may have all of these answers; and if not, the quiz will guide you in considering some of these questions and helping you start a discussion with your patient partner to better align from the start of your potential collaboration.
However, you may not have a specific patient partner in mind - and that's ok! The quiz can still be a useful resource for you to think about what you'll need to successfully work with a patient in the future, and the resources section may guide you in identifying your future patient partner.
But, if after reading working through the quiz, you don't feel ready to commit to partnering with someone else in ways that might change you, there is nothing wrong with that! It's wonderful that you realized this about yourself and you can always come back when you feel more ready for this type of partnership.
After completing the quiz, we hope you'll share your results and start a discussion with your patient partner (new or existing). The partners who have taken the quiz so far and done their own 'humility audit' have shared that it has been useful for self-reflection on their current workload and priorities and goals, and useful for enabling alignment with their patient partners.
We also hope you'll consider sharing your own narrative, perhaps guided by the reflections from your quiz, and inspire other partners who are collaborating with patients as well. You can see the existing library of partner narratives here.
Open Source
These new sites, like everything else for the Opening Pathway project, are open source. So if you like the site design, the quiz material, or anything else, you're welcome to take them, run with them, and build upon them further. We're already hearing feedback that the quiz is being used in various formats by new grant teams to form equitable partnerships with new communities, which is fantastic. If you end up using material from any of these sites, please do share - we'd love to know how and if they're being used. You can email Dana@OpeningPathways.org if you have questions, have feedback, or to let us know if you're using any of the Opening Pathways materials.
Thank you
Our Opening Pathways project has been supported by many people and many organizations. Thank you first and foremost to RWJF for funding this work. Thank you to ASU for being the primary host institution for the grant. And thanks go to the Engagement Lab @ Emerson College (in particular, Johnny Richardson) for the development of the Patient and Partner sites.
And, if you are reading this, thank you for your interest and support of Opening Pathways!
Your email address will not be published. Required fields are marked *